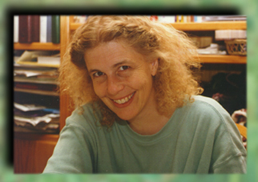 In answer to the questions I am often asked: I grew up in Los Angeles, California – in the Midwest – in Hartsdale, New York – and a little in Arlington, Texas. I graduated from BYU, went out into the world, chickened out, and went right back to BYU for graduate school, where I did a little bit of teaching (pushing around helpless freshmen, more like).
After all that, I taught English in Salt Lake, and in Utah County, Utah. Meanwhile, I fell in love with and married a responsible guitar player (rare, I know). Now I own a recording studio, my husband produces and engineers all kinds of projects (there's a link for the site on this home page) and we have four great kids, who are now pretty much off, making their own lives.
We have five horses, two good old dogs and one grandchild so far. Family is the most important thing to us, and frankly, in the last many years, my writing time has devolved into chaperoning choir tours and running wild with my kids and their friends. Ask me where I get my ideas, and I will point at a certain high school full of them.
I belong to the Church of Jesus Christ of Latter Day Saints (commonly referred to as LDS or "Mormons"). This has given me a deep grounding in an obligation to do my honest best, both for our family and for the world around me.  I believe the right choices are often tough ones, that personal comfort isn't as important as service to other people, that truth is not a matter of personal perception.
I believe that you can't side-step real consequences, not in real life or real storytelling—not if you want to tell the truth. And that everybody makes mistakes (you know—nobody ever lives long enough to make them all). I don't really write about these things. But I know they must show up in my stories.
I love family, good friends, brave and honorable people, hope, leaves, clear streams, collies and aussie-shepherds, stars, glass, wood, fabric, motion and laughter. And Morgan horses. And ancestors. And chocolate. I cannot spell worth a darn.
I did not always love to write, especially not for school assignments. My own "creative process" is a haphazard, messy thing. Sometimes it's just sheer plod, as Gerard Manley Hopkins once wrote, that makes plowdown sillion shine. But sometimes there are glorious flashes of pleasure and rightness to the work that keep me going.
And here's the personal stuff: I was never popular. I was never beautiful. I was never rich. I was only mean once that I can remember (to a kid, not my sibling, I mean). But I can remember a couple of years of hell at the bus stop and in the halls when I went to Hartsdale junior high.
I've seen grand canyons and tall buildings, adolescent cruelty—and the look of angels on a high school junior's face. Forests, plains, mountains, oceans, tours in Paris, cairnes in Wales. I've known friendship and I've known betrayal, birthday parties and nightmares.
I've lived through it all—and loved quite a bit of it.
So thanks for coming to my page. I probably haven't told you a thing worth knowing. But there you are—for certainly, I've got Irish blood in me.
If you'd like to e-mail me, please do so:
kddr ((at))rosewoodrecording((dot))com.