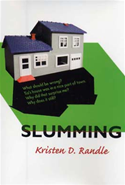 Niki never imagined that this offhand thought would change the course of her senior year forever. But when she poses the question to her best friend, Alicia and Sam, Alicia is suddenly inspired, and the three unexpectedly find themselves launching a "human experiment." It seems like the perfect way to make a difference in their last feew weeks of high school: they will each pick a student who needs a little improving and take that person to the prom.
Harmless, right?
When Nikki, Alicia, and Sam quickly become entrenched in their projects, each has to face difficult realizations about the people they have chosen—and themselves. Before long their own close friendship feels fragile. Will they make it to graduation without hurting one another – or anybody else?
Acclaimed author Kristen D Randle has woven an intriguing, insightful, and suspenseful story about three friends who set out to transform tohers, with unforeseen consequences.
——-=0=——–
The Horn Book
7/8/ 2003
"There's something about traveling to another country: you can never see your own home quite the same way again." Nikki provides this neat metaphor for the "project" she and her two best friends take on at the end of senior year: she, Sam, and Alicia will each choose someone with untapped potential and remake that someone—and then they'll take their creations to the prom. The story quickly leaves the territory of teen-Pygmalion romance, however, as their travels into other lives result in the alteration of their own instead. Popular Nikki bestows her attentions on "classic nerd" Brian Camarga, but instead of transforming him into a handsome prince, she learns how to write HTML. Alicia is drawn to mysterious bad boy Morgan Weiss, convinced she'll uncover the "dark angel" within, but discovers less mystery and more darkness. Sam takes the furthest journey, into the hidden world of Tia Tarraletto (whom Nikki has dubbed "Girl Most Likely to Beat You with Chains"), revealing a situation so horrifying it makes him vomit—and changing both their lives in unexpected ways.
Certainly, we expect the unexpected from a great book, and Randle delivers this and then some, creating layers of complexity in all the characters' lives. The three friends have grown up together in the Mormon church, and their beliefs color many of their choices (Sam is powerfully attracted to Tia but has decided to abstain from sex until marriage—hardly a typical portrayal of a popular athlete). The first person narratives are skillfully interwoven, and the interchange is especially taut when all three relate the events of a single scene, jumping from one perspective to the next. The variety of view points supports the book's theme, succinctly put by Nikki's mother: "There are a lot of…normals out there." Such wisdom is undidactically and smoothly integrated into this fresh, energetic novel. L.A.
Voice of Youth Advocates
Aug. 2003
3Q . 4P. J. S
Best friends Nikki, Sam, and Alicia make a pact in the school cafeteria. Having read Pygmalion, Alicia suggests that each choose a classmate who obviously needs help, become friends with him or her, and take that person to the prom, all within a three-week deadline. What follows is the story of three youth—good students, nice, honorable, and from good families—who attempt to change the lives of three classmates, with some devastating consequences. Nikki chooses the computer nerd in her science class. Sam chooses Tia, who projects a scary Goth persona but hides a dark secret. Alicia doesn't not reveal her choice and in secret pursues Morgan, the handsome jeuvenile delinquent who she is convinced has more potential than he is given credit for having.
The three teens tell their own stories and recount their adventures on the project, detailing not only the lives of those they have chosen, but also their own. Families are not always what they seem to outsiders. Moral choices appear throughout the book for both the teens and their parents and the fact that all three narrators and their families are active Mormons is a major plot element. The seemingly innocent pact between friends leads to some really intense and frightening scenes to which teens can easily relate. This fine story deals with contemporary issues but focuses on the good and hopeful outcomes of apparent tragedies—Rosemary Moran.

School Library Journal
Aug 2003
Seniors Nikki, Sam, and Alicia cook up a "Great Idea." Each of them is to choose a person "who is obviously untapped" and through friendship, kindness and support release that individual's potential. For Nikki, the class nerd Brian is the idea choice. With a little help she knows that she could turn him into the prefect prom date. Sam chooses Tia with the black lipstick, eyebrow ring and Nazi shoes. Alicia decides to change Morgan, the school rebel and all-around bad guy. The story, told in alternating voices, veers immediately from the typical Pygmalian scenario. All three teens leave their comfort zone to enter the world of their protégés. For Nikki, it requires working on a school project with Brian and his super-brainy buddy on their turf, but Sam and Alicia both enter worlds in which they are ill prepared to cope. Tia allows Sam into her dark world of abuse where he sees firsthand the extent to which she will go to protect her brother. Alicia insinuates herself into Morgan's life and quickly sees how far apart their worlds are. The alternating narratives personalize the story and show individual character growth. The premise of trying to impose one's ideals and values on other without knowing their circumstances is a life lesson that gives teens much to think about without ever letting the message dominate the story-telling.— Sharon Morrison, Southeastern Oklahoma State University, Durant, OK.

ALA Booklist
Aug 2003  Gr 8-11.
In the last several weeks of their senior year, three friends, the only Mormon students in their class, launch an ill-advised project that leads each to a better, if painful, understanding of the world. The plan is for each to befriend a fellow student—someone who seems to need a friend—and then ask that person to the prom. Alicia, Nikki and Sam choose differently, with different results. Each student narrates short sections within each chapter, creating a distinct personality through voice and thought. The results of Alicia's efforts are a bit too predictable, and her character isn't as strong as that of her friends, but Sam convincingly deals with difficult ethical and emotional issues and Nikki discovers new aspects of herself in an entertaining way. The fact that these friends are drawn together by religion, which is an integral part of their lives, is particularly refreshing. —Kathleen Odean
Kirkus
June 2003
In this Pygmalion story with a twist, three provincial high-school seniors, all Mormons with conventional values, bet that each can befriend a classmate with untapped potential, change him or her for the better, then take that person to the prom. But the chosen students, who have their own agendas, are more resistant than flattered, and it's the triad of heroes—two girls and a guy—who end up having their eyes opened. Alternately narrated in the first person by the three protagonists, there are a lot of characters and stories to keep track of and it takes a while to key into their various situations. The tales, one that involves the long-term sexual abuse of a minor, one that ends in an ugly hazing and humiliation, and one about a self-centered geek, don't entirely fit together. Still, a thoughtful work about the nature of doing good.
http://nancykeane.com/booktalks/randle_slumming.htm
Randle, Kristen D.
SLUMMING
New York : HarperCollins, 2003.
IL YA
ISBN 0060010223
Nikki, Alicia and Sam are good kids. They are seniors in high school. All take AP classes and expect to go to good colleges next year. They are committed to their religion and believe in the goodness of others. But they also know they are quite sheltered. They have been best friends forever and now feel that they should find other friends. Actually, they feel as if they have something to give others. They decide on a project. They will each select a person who seems to have potential and change that person into someone who they would want as a friend. Nikki chooses a computer geek. Sam chooses a tough girl who wears black lipstick and nail polish. Alicia won't tell the others who she chooses. What they don't realize is that the others might not want the same things, however. How will this experiment work out. What happens when good kids go Slumming?
SUBJECTS: Self-perception — Fiction.
Interpersonal relations — Fiction.
Family problems — Fiction.
Mormons — Fiction.
Best friends — Fiction.
Friendship — Fiction.
High schools — Fiction.
Schools — Fiction.
SLUMMING by Kristen D. Randle (HarperCollins, 2003). High school seniors and best friends, Nikki, Alicia, and Sam, naively decide to play a Pygmalion game to liven up the last part of their senior year. The game has rules: each of them chooses a misfit, benevolently befriends and tries to improve his or her life a little, then takes this person to the prom. The day after the prom the most improved misfit's escort will win the game. It doesn't occur to them that the misfits might not welcome or want these intrusions into their lives. So the Pygmalion game begins, full of heartache and deception and fun and love and laughter, leaving you holding your breath (and your sides) to the last page. Ages 12-up. Review by Frances Hill .
Richie's Picks Home
22 February 2003 SLUMMING by Kristen D. Randle, Harper Tempest, July 2003, ISBN: 0-06-001022-3
"The rain in Spain stays mainly in the plain! The rain in Spain stays mainly in the plain!"
–Eliza from My Fair Lady
Tolerance.org, a web-based division of the Southern Poverty Law Center, has created Mix It Up , http://www.tolerance.org/teens/index.jsp a network for youth activists who are challenging social boundaries in schools and communities. Last November they sponsored a national Mix It Up At Lunch day , which encouraged kids to consciously leave the confines of their own cliques and go sit instead with somebody they would ordinarily look right through. (There are some great stories on the Tolerance site from kids who are involved in this movement.)
SLUMMING is a tale in which three friends take paths that meander somewhere between Professor Henry Higgins' arrogant assumption that he can remake Eliza into his ideal woman and the Mix It Up philosophy that you need to throw off your assumptions, prejudices, and feelings of superiority in regards to those outside your own group.
"…you got to look outside your eyes
you got to think outside your brain
you got to walk outside your life
to where the neighborhood changes…
–Ani Difranco, Willing to Fight
Nikki:
" 'People always talk about how rude the French are,' my mother told me once. 'But that's because so many Americans think the world starts and stops with them. America isn't normal. It's just America. There are a lot of wonderful normals out there–hang on to yours too hard, and you'll miss a lot.'
"I think I'm beginning to understand what she meant."
Sam:
" 'Why do you do this?' I ask her [Tia].
" 'What?' she says.
" 'Why do you make fun of everything about me?'
"She laughs again, one short, hollow-sounding laugh.
" 'Because you're a cartoon character,' she says. 'You're fake.'
" 'I'm fake,' I say.
" 'When you let me off at my house, and you drive down and turn the corner, you just–disappear. And then they bring you out tomorrow at school, with your little letter jacket and your clean shirt. I'm surprised you don't wear loafers or saddle shoes or something.' "
Alicia:
"But one day, one morning last fall…I looked up, and there he was. I could hardly see him through the press of his friends. Then the crowd shifted, and suddenly, there was his face. He was laughing, and then he looked right into my eyes."
Nikki, Sam, and Alicia are high school seniors. They are long-time companions as a result of being the only three Morman kids their age in the school system:
Nikki:
"Without that, I doubt we would have gotten as close as we are–the three of us are so different. Sam is the football scholarship type–letter sweater and pins and all that. Alicia's the service club/student government type. And I'm the scholar and mess-off type. Three separate social classes. Sam is beautiful but focused; Alicia's got this fairy-like delicacy, both in mind and body; and I just run around, collecting people and talking a lot. We see the world in very different ways."
Alicia:
"The idea came all at once: we will each choose a person who is obviously untapped, and we will try to open him up, set him free, give him life. I do not anticipate that it will be that hard–kindness, a little attention, support, friendship."
SLUMMING shows us what takes place when these three young adults put their plan into gear. As happened with the characters in Kristen Randle's previous YA novel, BREAKING RANK, there are some intense reactions and unexpected consequences in SLUMMING when the three decide to mix it up with teens they've always seen around school but with whom they have never connected.
And when they boldly step outside their lives and stick their faces into somebody else's, there is the question of what happens next:
" 'So, is this a temporary thing? You score a friend, and then you go back to the way things were'–she opens her hands–'mission accomplished?'
"I don't know,' I admit. 'I didn't think it through that far.' "
Richie Partington
http://richiespicks.com
BudNotBuddy@aol.com